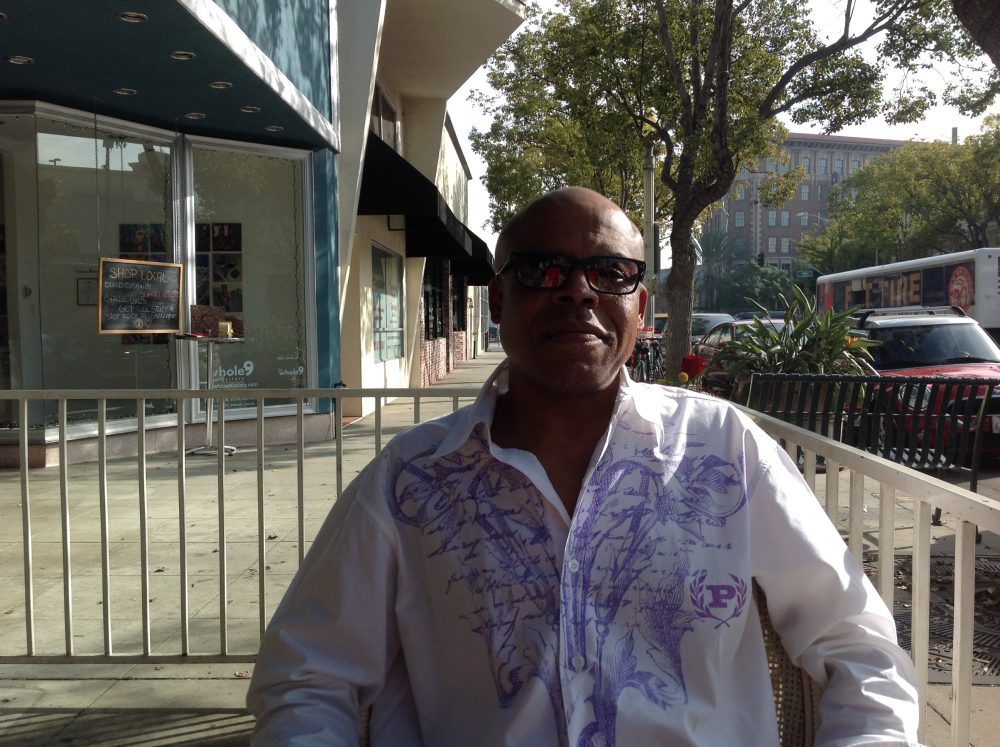 Gerald Brown
Bass player
Los Angeles
Talent and steadiness, his best allies
Gerald was 9 when he joined his primary school orchestra. At that time, all school had their orchestra and any child who wanted to learn music and play an instrument, was welcomed to do so. He chose the trumpet, but his brother told him to take the string bass, because "bass players are cool cats" ! His aunt noticed he was improving and offered to pay for a private teacher, only if he would be really steady ! Gerald promised to be steady. He was 13. So, he learnt with the school orchestra, with his private teacher but also by listening nonstop to his idols, trying to play like in their records (James Brown, Marvin Gaye, Stevie Wonder and all the Motown crew). "I would put a record on and play till I could play the bass line perfectly! I could play by ear. "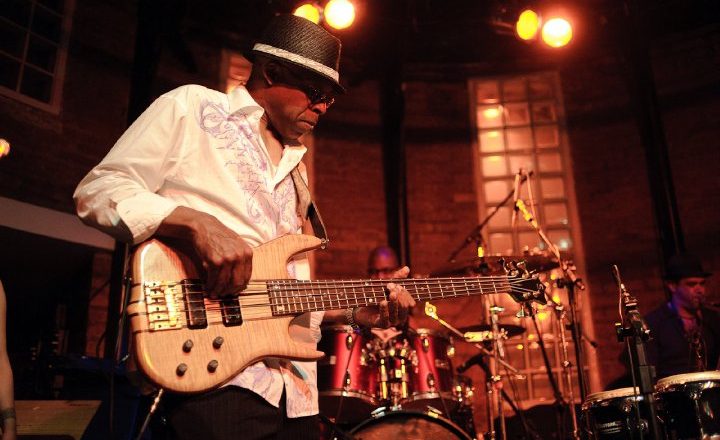 His way to become a professional musician  
At 16, his hard working attitude got noticed and he was asked to play with other musicians in a studio. He was really scared, but accepted the challenge ! Among the musicians were the Jazz Crusaders, with Joe Sample on the piano. « I was scared to death, but I had to go ! ».
Gerald explains that during these years, there were not that many musicians in Los Angeles, and everybody knew each other. At that time, he joined USC, University of South California and keep on practising, practising, practising… « Practise practise practise  » he tells me ! He joined the USC orchestra for 4 years. He was the only Afro-American musician. Gerald was very steady, working his bass as soon as he could. Learning from different ways was an asset for him : he could play without a sheet and already had the reputation of a hardworking great musician. He was very often called to play commercial jingles for Los Angeles radios as well as live sessions for TV shows.
In 1974, he played in a band with Wayne Vaughn, who will remain a friend till now.  In 1976, at 22, he got a phone call from Marvin Gaye who had heard of him and was looking for a new bass player. They were several musicians to try their luck, and Gerald was the youngest of all. But he was picked up for his technic and his groove. " I knew the Motown style by heart, I had played it over and over again in my room. It was my stuff. And off the road ! I went on tour with Marvin ". He also played with Freddie Hubbard, Hubert Laws and his brother Ronnie Laws who was a friend of him.
"You know, it was a mouth-to-ear matter of fact : you were a good musician, you were steady, you had references, you would meet new musicians, new opportunities, and on and on… The network is also what builds your career. "
When I ask him what the musicians situation is like nowadays, his face changes… looking for his words, being overwhelmed with nostalgia… "It's much more difficult now than it was before… Electronic music definitely changed the market and the music industry. Guys don't bother anymore with musicians. They need a trumpet ? Use the keys to get a trumpet sound. You need drums ? Just fine, you're going to find them in the box, you don't need a drummer. The new generation believes electronic sounds can replace real instruments.." He nodes…  "And there were plenty of clubs where we could play : one evening here, the next one there, it was incredible. Live music was everywhere and we were hired everywhere. We would always have gigs. Rap doesn't need live music any longer… It's sad… And there's another thing : you need to be involved and to be sober. Alcohol, drugs, that does not make you cool. That does not help you play better. The musicians who believe that are not getting it. Regarding me, I've always been steady, because my goal was to give the best of myself. When you play with Marvin with over 20 musical sheets to play, you must be at your best, concentrated. You cannot allow yourself not to be good. Your reputation is at stake. "
Gerald remembering Willie Bobo :
I played one gig for Willie when I was either 18 or 19 years old. I can remember to this day when he turned around to me while we were performing and said I need to stop playing all that « shit » and play the Latin groove we were in. I was throwing in all my newly learned jazz licks and thought playing simple Latin bass lines were too boring. Learned a great lesson from Mr. Bobo from then on about how to allow the bass to set the foundation and keep the music grooving no matter how simple the bass line might be. That was a priceless one time education that I still practice today
A kid of the Motown groove
Gerald was born in 1954 in Los Angeles. Music has been his background since his childhood : at home the radio would stay on with the hits of Stevie Wonder, The Jackson Five, James Brown… He first chose to play the trumpet, and then took on string bass.  Born in this Rythm'&'Blues musical background, he was 10 years old when the Civil Right Acts were signed by President Johnson.
« Music has always been an incredible means to convey political ideas and it became ever so true in the 60s-70s. These years were ever so important in Afro-American history in the USA. Almost all the Afro-American artists of that period were part of the Civil Rights  Movement, whatever their field : Mohamed Ali, Nina Simone, Stevie Wonder, Louis Armstrong, Donny Hathaway… All of them would denounce the way Afro-American people were treated on a daily base. James Brown was the first one to tell the Afro-American community : « Be proud to be Black,be proud to be yourself : Say it Loud, I'm Black & Proud! ».
 It was in 1968 and we were all singing his song ! It had become our own anthem in an country divided because of the fight for the Civil Rights. You know, James Brown is  angry and proud when he says his words, and it makes a huge change. From now on we can tell America : «  I am proud to be Black ! ». Before that, we would not. »
There is no doubt that Gerald is representative of the Motown generation.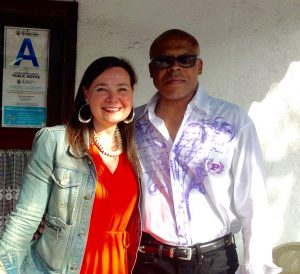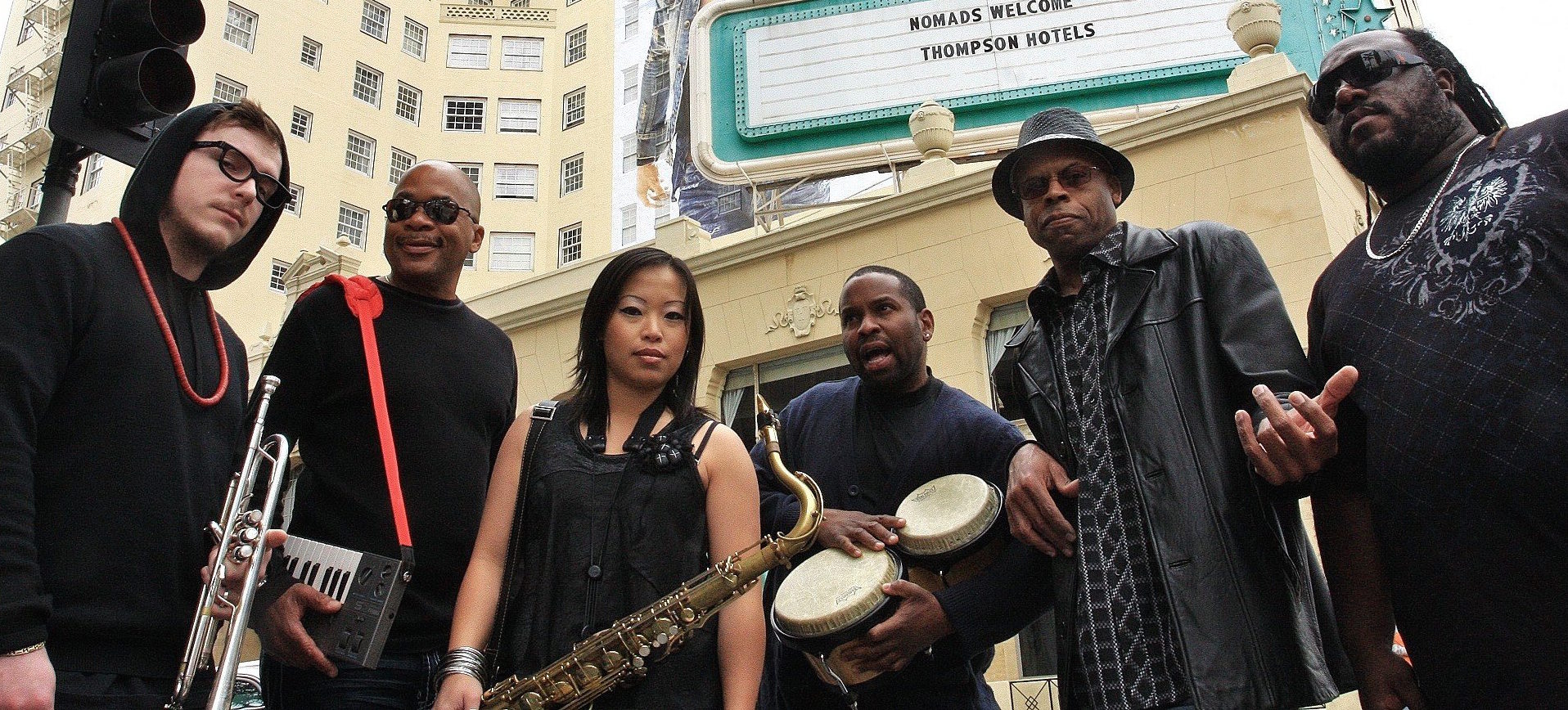 Gerald with Wayne Vaughn on the 3 Generations of Groove project
Gerald's Tips
" Do not limit yourself to one style, do not be scared to learn. Work your instrument without looking at the clock. Be involved, look for opportunities. Work your technic daily. Listen to other musicians when you are playing. You are not the only one there and learn from that. 
Now, young people can learn with the internet. They have everything they need to take  online courses, to listen to whatever they want and to have a network. Everything in one single place : the internet ! So, what will make the difference ? How involved you are and who you will meet".
Interview made on December 9th 2015 at Grand Casino, Culver City, CA
Photo concert in Brazil : thanks a lot to Victor Brooks 2