Wayne VAUGHN
Pianist, Composer, Producer
Los Angeles
At Vaughns, 3 generations of Groove !
Wayne was born and raised in Los Angeles in a family that loved music. His father was a mechanic and would play guitar.
» I should have played guitar too ! I started playing the flute at primary school because it was easy to carry and you could play everywhere. I played from 9 years old till my freshman year. When I was 13, parents bought my sister and I a piano. I would love to play and eager to learn. At 14-15, I started following my father who would play in clubs in Los Angeles. One evening, a pianist invited me to play on stage with the band. We played Mercy Mercy Mercy. I remember how magic it was. I told myself : « How come we can play this song, we've never rehearsed together ! » I was fascinated. I loved it ! From that day on I knew it was what I wanted to do. The second time I played like that, it was with Willy Bobo, the percussionist. »
After high school, Wayne decided to study music and composition at UCLA. In 1976, some days after he got his BA, he joined The Brothers Johnson band and was off the road for 6 years.
« This is how I met Quincy Jones who was the Brothers Johnson producer. He was the best teacher you could have, better than the ones I had at college ! Then, I played with Lionel Ritchie for a while. This was the time I also met Maurice White in 1978. At that time, we would both play jazz and we also loved groovy rhythms. But jazz was not putting enough bread on the table. So, we decided to compose some funny groovy  stuff that would not make people's mind think too much [Wayne is laughing]. We composed Let's Groove, the national party anthem ! You could hear it at every party ! Later on, Maurice asked me if I had songs for EWF. I gave him a tape with four songs he might have liked. He picked up three songs that are on the album Raise [NE released on November 14, 1981, CBS. Raise was number 1 best seller in 1982. Let's Groove was released on October 21, 1981 and became Gold Record on January 13, 1982 with over 500 000 records sold]. I worked on a regular basis with Maurice till 2005.
When did you start composing ?
I started composing at quite a young age. I was highly influenced by two songs I really loved and would play a lot at that time. There were Watermelon Man (Herbie Hancock), and  Song for my Father (Horace Silver). That triggered my desire to write and compose.  I had a band at college and we wanted to play some more popular music to make money and get a decent wage – it was the beginning of Earth, Wind & Fire. Living on jazz was tough. Even Herbie and Miles [Hancock – Davis] started being funky. It was a time of transition in jazz music : we were going from Giant Step (John Coltrane) to a mix of R&B on top of which we would add some jazz harmonics and a beat that would make people dance.
It's like salsa : Afro-Cuban rhythm with a tempo allowing people to dance, to move. People have fun on that music. You allow them to have fun. Never forget that Duke Ellington, Count Basie, Cab Calloway were ever so popular because they would make people dance on their music. The 17-musician Big Band was a dancing machine. That's the trick : if you can make people dance and have fun, they're being part of the game and you become popular.
Miles loved « traditional » jazz, but he evolved with the music influences of his time and his last album also had hip-hop [en. Doo-Bop, released in 1992, after Miles Davis had passed away). His jazz-fusion-funk work with Marcus Miller and George Duke had already started in 1986 with Tutu. George introduced some electronic music. I remember listening to the record and asking myself « Hey, who's playing the saxophone ? « , but it was George on the synclavier ! You could not guess ! The rhythm wasn't too fast and you could believe somebody was playing the saxophone. But you cannot be fooled when the rhythm is getting faster and the musical phrase gets more complex. I needed some flute on one of my compositions and I played it on the keyboard first, just to have a idea of what it could be like before calling the flute player. I called him and have him listen to the track and he said : « It's not a real musician playing, right ?! » You cannot fool the true musician ! It's a matter of habit.
You know, I have a symphonic orchestra in my phone. It's called Garage Band®. I can make a concert right now ! [ you must know that Wayne is a music genius with incredible technic knowledge and gift for music].  It's because I can access this technology that I am not using it ! I need to go to the studio, to record with my old tape recorder – yes, I still use it – I record my song, call real musicians to play the tracks. I'm a traditional music maker !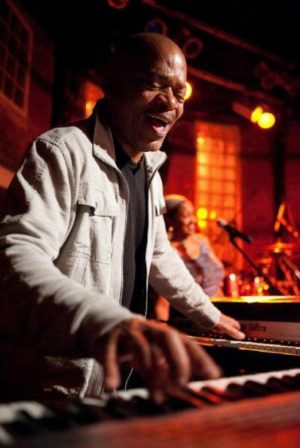 Concert in Brazil. Pic thanks to Victor Brooks 2
How did you get into production ?
I started production because I wanted to take part in the creative process of the record. I assisted sound engineers for ten years. I went from musician to composer, then from composer to engineer-producer as I like to say. I learnt how to record and then I was ready to go and work in the studio without waiting for others to do the job. That's was another thing and being my own producer, I could work on my song without wasting time.
It also was a challenge I wanted to take and that I still embark myself in that challenge.  You are never done ! Nothing can be taken for granted ! I keep on learning every single day and there are some days I am unable to find the right thing. Other people around are like » whaaoooo that sounds great ! » and I'm like « Noooo, on that's not what I want ». Sometimes, I need to take some distance with my work. When you are too much in your work, you do not see what's wrong. Do your work, then put it to one side for a while and then come back on it.Sometimes it can take a whole month to get a great result. Sometimes more. It also depends on your target and your goal. You must know how to use your skills properly.
The producer is there to make an artist sound better. You share your ideas to go further and enhance what you were initially given. The advantage I have on the one who created the song is my distance on his work. I have an objective non-biased view. It's always easier to see the mote in your brother's eye ! This is one reason why I also like  co-production, so I have someone else's opinion on the work. It's a question of balance.
What are you up to these days ? 
My wife Wanda is a singer with The Emotions and my four children are all musicians. We have just done a cover of Donny Hathaway This Christmas that will be released in just some days for Christmas. And we are also working on a project called 3GG, 3 Generations of Groove, the whole family together !
And when I'm done with one project I already have another one in mind calling me !
Wayne, a thousand thanks for this privileged moment ! 
My pleasure ! But I've talked too much, let's go for a drink !
Wayne and NoJazz on Soul Stimulation 
Wayne  worked on NoJazz last album :
« I managed to have Stevie Wonder & Maurice White. The music is a mix of jazz, R1B, Hip Hop, Trip-Hop, soul. When people come to listen to them with a cool beer, they jump up & down nonstop ! Pascal, on Drums, also plays guitar, Philippe on Keyboards is also a DJ & the horn section is a killer : it's an incredible energy ! It's the equivalent of Ellington & Basie : people are having fun, they're partying. NoJazz plays jazz on top of other groovy rhythms. And guess what ? People LOVE it !

SOUL STIMULATION available ICI 
NoJazz interview here !